Make Your Life A Mission. Not Just An Intermission.
Arnold Glasgow
"
And that's me – on a mission to help you make your business a mission, not just an intermission. I'm your Mission Architect.
Marion Chamberlain has been described as a change-maker who inspires businesses to develop a mission-centered mindset that their employees, customers, and investors can rally behind. Her presentations are delivered with enthusiasm and conviction to inspire action. Her speaking style is informative, interactive, upbeat, thought-provoking, engaging, and direct.
Her background in executive leadership, corporate strategy, environmental stewardship, and internal and external relations with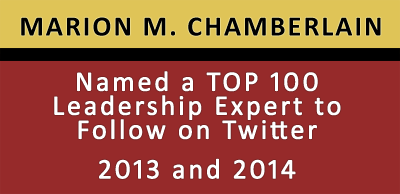 departmental and executive management, shareholders, the Government, and the Media provide keen insight and guidance to audiences on leadership, teambuilding, community impact, and sustainable business growth. She's also the author of The Impactful Leader: The Top 10 Skills to Set You Apart. Marion has also been consistently listed in the Top 100 Leadership Experts to follow on Twitter in 2013 and 2014.
Prior to becoming an entrepreneur, Marion served as the Strategic Business Planning and Sustainability Manager for a leading metropolitan transportation authority. In her role, Marion led the organization's strategic business plan and sustainability agenda by overseeing economic feasibility and cost effectiveness modeling for tactical initiatives, implementing sustainable practices and establishing measurable return on investment, and serving as the organization's lead for collaboration on sustainability issues with regional and national advocacy groups.
Marion also has served on the Philadelphia Mayor's Sustainability Advisory Board and Subcommittee on Environment & Equity; City of Philadelphia's Sustainability Working Group; the metropolitan planning organization's Food System Study Stakeholder Committee; and Walnut Hill Community Farm Advisory Board.
In her free time, Marion loves cooking, reading and hiking. She lives in Braddock, NJ with her husband and their four furbabies.
Marion's Story
How did I become so obsessed with businesses having a mission and societal impact?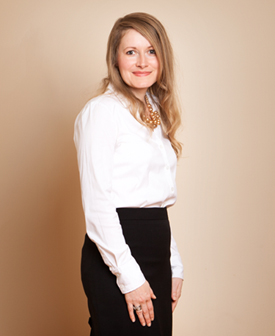 On November 4, 1996 on my way home from a MBA class, I was involved in a near-fatal car accident with significant internal injuries. I spent 10 days in the hospital, which included 5 days in the ICU. I was told by the physicians that it would take 7 months to physically recover. However, they didn't know me. I was 25 and had been career-obsessed since my first job in college. I had just started a new job at a prestigious university hospital. Had a glamorous title, was managing a staff of 5 and was making great money. So, I was hell-bent on getting back to work. Well, I managed to convince the doctors that I was ready to go back after 5 weeks. On my first day back at the job, I was called over to my boss' office to be told that I was being let go. He cited personality differences and performance issues. In a way, I had this immense sense of relief since I realized that I had been deluding myself. I hadn't been happy in the position that I had held for 7 weeks. The workplace felt sterile. My boss was a micro-manager. I felt caged with a staff that didn't get along.
I should have thought to myself that everything happens for a purpose, take the time to heal physically as I should have and finally count my blessings after having survived and being given a second chance. Well, I didn't. I was angry. I felt devastated since my passion in life, i.e. my career, had been taken away from me. I did take 7 months to recuperate physically and ended up getting a temp job upon return to the workplace that paid 50% less than my job prior to the accident. This fueled my anger even further. The good thing from this anger is that it had me really delve into my own spirituality and personal development.
After two years, I started to make headway in my career again with my salary level increasing back to what it had been pre-accident. However, there was something that continued to gnaw at me as I moved up the career ladder. At one point, I actually went back again in my career to a lower-level, lower-salaried position with a new company because I had become so miserable in my job that I had to just escape. I was also still heavily in my spiritual and personal development seeking mode.
Finally, as I moved up the ladder again with this new organization, I tapped into what had been missing for me as I served as a corporate leader – social activism – an outlet for my need to have an impact in this world. My drive for career growth and personal development was all related to my wanting to make a mark in this world. When I was able to integrate this passion into my job through championing the launch of a corporate social program, I felt fueled and elated. I also realized that I wasn't alone. There were other corporate leaders who had that same sense of dissatisfaction with the day-to-day direction of their business and were looking for more. Defining a business mission and to be purpose-driven was the solution. And that's what set me on my mission to become a Mission Architect.