We're a strong believer in giving back and paying it forward. Social, environmental and economic sustainability and corporate social responsibility are at the core of what we focus on.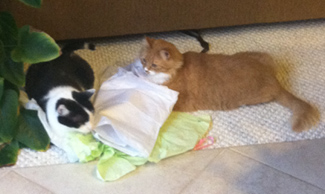 I want to have an impact in this world and also contribute to my community. As a result, I made a commitment through Chamberlain Leadership to contribute to two organizations. The reason these two were selected is that 1) I'm a woman entrepreneur and want to see other women take the leap into entrepreneurship; and 2) I'm a vegan and devoted cat momma. Animal welfare is critical to me.  Here's a little info on the 2 organizations supported.
The first is the Animal Welfare Association of NJ. The Animal Welfare Association (AWA), a private, nonprofit organization, operates the oldest and largest low-cost spay/neuter clinic, adoption center and no-kill animal shelter in South Jersey. Through a variety of innovative programs including adoptions, veterinary services, pet therapy, trap-neuter-return and humane education, they strive to ensure that animal companionship is accessible to all. I adopted three precious cats, Merlin, Mystic Morrigan and Lilac, from this shelter after dealing with the immense loss of my beloved 16-year old cat, Rusty.  The shelter team was wonderful and these furbabies have been a true blessing.
The second organization is the Women's Center for Entrepreneurship Corporation of New Jersey.  They've served over 50,000 women in NJ for the past 15 years. Their mission is to provide the tools for women to successfully own, operate and grow their small businesses, thereby investing financially, intellectually and emotionally in their community. The Women's Center for Entrepreneurship helps elevate women to business success through education, consulting and entrepreneurial training. I've worked with them as a workshop facilitator and business consultant for 11 years at a reduced fee and contributing through in-kind donations.
Given the nature of our business and the focus on organizations that contribute toward organizational, social and environmental good, we receive a lot of requests for partnerships and/or contributions from charities and non-profits.  Chamberlain Leadership firmly believes in charity with clarity.  This means that we provide focused financial support in alignment with what we stand for.  While we would love to support many causes, at this time the two shown above have our commitment.  We applaud you for your efforts and wish you the best in doing good in the world.