I'm frequently asked for recommendations on resources I use for my business or for product or service provider recommendations. Here is a listing of resources that I recommend for small-to-medium sized business owners/entrepreneurs:
Accountant
Books
E-mail List Building
E-mail Marketing
Insurance Agent
Online Training Software
Social Media Management
Web Design
Web Hosting
Accountant
If you're based in southern NJ, I can highly recommend Carl Snyder, CPA. I have worked with Carl and his team for 9 years for both my personal and business income tax preparation services. For more info: http://www.carlsnyder.com/
E-mail List Building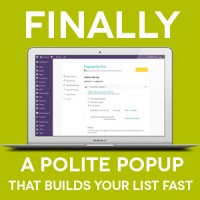 I had been on the fence for a while about adding a pop-up to my site since I'm not a huge fan of in-your-face marketing as an introvert myself.  However, I then came across PopupAlly.  It sure changed the way I feel about pop-ups.  PopupAlly has been one of the easiest programs for me to install and implement.  PopupAlly should really be in every introvert entrepreneur's marketing toolkit.
E-mail Marketing
I have used AWeber (*) for 7 years. Their customer service is outstanding and the technology is very user-friendly. They continually adopt their product to technology changes and market needs.
Insurance Agent
If your business is located in NJ, I recommend Edgewood Associates based in Berlin. Mark von der Tann has handled both my business and personal insurance needs. I have made numerous referrals that all have been very happy with the products and services offered. Full disclosure: Mark is my neighbor. However, I only recommend providers who have served me well. For more info: http://www.edgewoodinsurance.com/
Online Training Software

GoToWebinar has been my go-to online training/webinar software since August 2013. I've been extremely happy with the technology, account management team and customer service. I have experienced other software programs as an attendee and can only say that GoToWebinar is the real deal. For more info: http://www.gotomeeting.com/online/webinar.
Social Media Management

This has been my go-to service for 4 years. I use Hootsuite for my weekly bulk uploads for my Twitter, Facebook and LinkedIn accounts. Easy to use and very reasonable price-wise. Check them out at: http://hootsuite.com.
Web Design

I have worked with Sandy Perilli from Foliofly, LLC for 5 years. She has designed and maintained 4 of my websites. I can only sing high praises for her and her team. You can't go wrong by choosing her. You can view her portfolio at http://www.foliofly.com.
Web Hosting
I currently host all of my current sites through Bluehost (*). They have always been responsive to my needs and were excellent in working with me to transfer various sites over to them. I recommend them to all my workshop/webinar participants.


(*) Disclosure of Material Connection
If you purchase the product or service I list above from the link or banner you just clicked, I will receive an "affiliate commission." I am disclosing this in accordance with the Federal Trade Commission's 16 CFR, Part 255: "Guides Concerning the Use of Endorsements and Testimonials in Advertising."
Regardless of whether I receive a commission, I only recommend products or services I use personally and believe will be good for my community.